Service Users Case Studies
Case Study 1 - Tennis
Jo Dallas, our Service and Funding Manager inspired Headway Portsmouth and SE Hampshire to start playing tennis with their service users, who had an acquired brain injury, when she was a trustee of the organisation. They had no experience of such sport but the effect on the service users was amazing! People who had their brain injury as much as 20 years previously saw a huge increase in well-being, core strength and mood. They went home tired and slept better, they looked forward to the sessions and enjoyed the challenge.
Tennis has been brought to an under-represented group and made it accessible and fun and there is now a regular weekly session. In additon to this Headway Portsmouth is now taking tennis back into the local hospital up onto the wards to patients recovering from an acquired brain injury.
Our Service Manager had the vision to see how mini tennis could be adapted for our service users, with the smaller rackets and larger, softer balls being more appropriate and easier for people to use with an acquired brain injury. Through her extensive knowledge of tennis she knew that taking the sport to the service users would be a success as once it was alll set up and service users saw others enjoying themselves they wanted to give it go too. All the staffs enthusiasm and belief that everyone is abe to play tennis rubs off on people and it was amazing to see so many of our service users trying tennis and the surpise and joy once they realised that "hey I can do this!!"
As a charity we were recognised by the Lawn Tennis Association (LTA) for all the tennis we are doing with our service users and have been awarded the following accolades:
LTA County Community & Parks Award Winner
LTA Regional Community & Parks Award Winner
LTA National Community & Parks Award Winner
LTA County Connecting Community Award Winner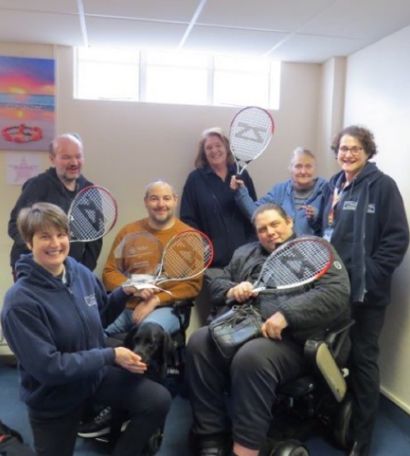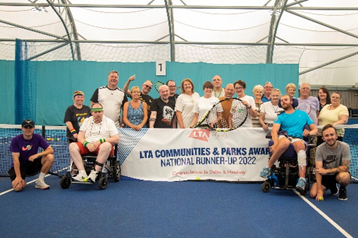 Case Study 2 - Early Intervention
We first met the patient when they were on F1 Phoenix Ward, QA Hospital, after they had had a stroke. The team at QA put in a referral to Headway Portsmouth and the patient was discharged from hospital but sadly their inpatient therapy was cut short due to the COVID pandemic and the first lockdown which led to the early discharge.
We met with them and assisted them with their PIP Allowance, Universal Credit benefits and a blue badge, and then continued to offer some social support and visits, encouraging them to focus on their therapy to aid their independent living.
Physically they do understand their difficulties but have poor insight in how cognitively the stroke has affected them and as they live alone they felt isolated, which is why we carried on providing social support with regular calls to see how they were. As their mobility is exceptionally poor they are unable to get to our services in Portsmouth, as their family members all work and so our emotional support and advice has been invaluable to them. We continue to provide support to them and have recently dealt with issues over their PIP and Universal Credit, due to them reaching retirement age.